Experimenting with new technologies is important, especially in the complex domain of security, public safety and justice. It is critical to our ability to detect risks and understand outcomes. Such experiments make demands on the learning capacity and transparency of the Dutch Police. Commissioner Erik Akerboom on the quest to strike the right balance between control and trust.
By Erik Akerboom, Commissioner of the Dutch Police
Reading time: 3-4 minutes
Be sure to read the other articles in the Decent Digitisation series. 
Public discussion of self-learning algorithms justifiably focuses on the potential risks of software 'that we can't control anymore' and that leads to unwanted outcomes. Examples include software that tags certain neighbourhoods, communities or even individuals as high risk, leading to the police taking an unwarranted or excessive 'interest' in them in their investigatory or law enforcement tasks. Or, conversely, they are tagged as low risk and, being largely ignored as a result, do not receive the appropriate level of protection. People are also worried that their freedom will be severely restricted if historical data determines how they are perceived today and for the rest of their lives.
A job for the police
It is, however, also socially unacceptable for the police not to make use of technology that can improve public safety. In a constitutional democracy, the police must, by rights, steer a course between these two positions. Their task is always to strike the right balance; there are no conclusive answers.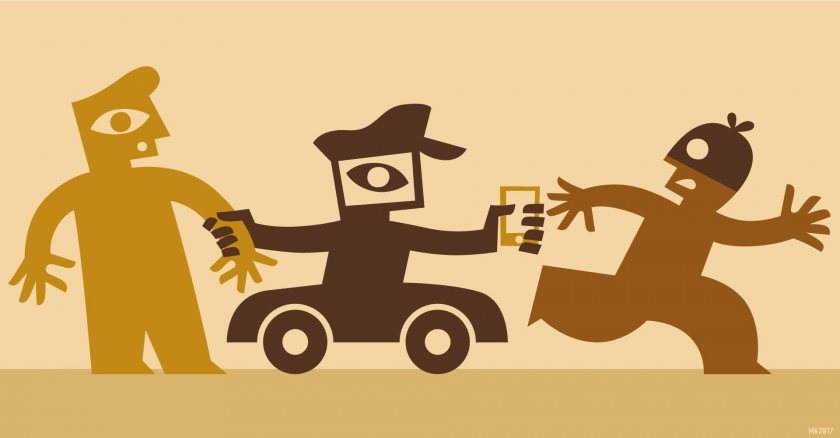 There are many ways to use self-learning algorithms in the domain of security and justice, from detecting fraud to solving cold cases. At the same time, we understand all too well how important it is to supervise the algorithms themselves. See, for example, the recent policy briefing Big Data and Security Policies: Serving Security, Protecting Freedom by the Netherlands Scientific Council for Government Policy (WRR).
Should we use algorithms to forecast crime?
An example: the Dutch Police recently featured in the news because of its Crime Forecasting System. The system uses historical data to detect patterns of crime, for example burglaries, muggings and robberies. The police use these patterns to identify where best to deploy policing capacity. This then generates new data and follow-up questions about the efficiency, effectiveness and legitimacy of policing.
What does this mean for the role of the police officer?
The Crime Forecasting System does not side-line professional judgement. Local, contextual knowledge remains important. Detecting crime patterns is not the same as identifying the causes of crime. The Crime Forecasting System does not, for example, make it clear whether action on the part of a housing corporation would be more effective in certain cases than extra policing.
Will we be able to predict every crime in the future?
People adjust their behaviour in the light of new information. Targeted policing can, for example, cause criminals to move on to other victims, times of day, locations or methods. And it is not only real or potential criminals who are impacted by policing, but also numerous other parties, including ordinary people. Behaviour can shift, and it is precisely crime forecasting systems that can help us to remain agile as circumstances change.
Keep doing what we're meant to do
Having the police use self-learning algorithms does not mean we are moving towards a totalitarian state with omnipresent surveillance. In fact, almost the opposite is true. In an environment that is changing dramatically, it is important for the police to use technology to adapt quickly, so that we can continue to do what we're meant to do: be there for the people.  
These two contrasting images are closely related to the sort of police that we – the people of the Netherlands – want in our society. On the one hand, we want the police to ensure the smooth and orderly operation of the state. In that respect, the police are primarily an instrument of the impersonal state, with the emphasis being on repression. On the other hand, the police are there to support and assist the people by protecting freedom and equality and by precluding the 'law of the jungle'.
"

Striking the right balance – that is precisely the challenge that the Dutch police faces.
Cooperation with others
Striking the right balance – that is precisely the challenge that the Dutch police faces. They do this in continuous and close interaction with many different parties and by contributing to the government-wide public debate, even at EU level.
We cannot limit ourselves to mere reflection. It is important to experiment with new information technologies, especially in the complex domain of security and justice. Because such experiments are critical to our ability to detect risks, assess outcomes and establish necessary criteria – for example for the protection of personal privacy. We focus largely on exploring options and also work with others in that respect, from local authorities to start-up firms.
Transparency and learning capacity
The deployment of these new technologies makes heavy demands on the learning capacity and transparency of the police. We involve academia, public and private parties, and civil society organisations – including those who are critical of us. There is an urgent need to carry on a sensitive and informed debate about technology and our fundamental rights. That debate will result in a police force that has gained enough trust to make significant advances in technology in cooperation with others.
By Erik Akerboom, Commissioner of the Dutch Police
Read more
Be sure to read the other articles in the Decent Digitisation series, and the related reports: