Together with TU Delft, the Rathenau Instituut has developed a game for biotechnologists and students. The game, Cards for Biosafety, teaches professionals and future professionals how to deal with safety issues in a better way.
In short:
In biotechnology, developments often outpace the rules and regulations. For that reason alone, biotechnologists should think carefully about safety.
The Cards for Biosafety game raises safety awareness among biotechnologists.
The serious game also promotes reflection on risky situations.
Imagine you work in a biotech lab and someone from the technical department comes over to fix something. He or she accidentally takes one step too far, and crash, a tube with a toxic fluid falls on the floor. How do you act as a lab technician, and how could you avoid such a situation in the future? Cards for Biosafety is a game for biotechnologists and students to raise awareness about biosafety and contribute to proper handling of risky situations. The game was developed as part of the project Tools for Translation of Risk research into Policies and Practices (T-TRIPP).
Cards for Biosafety
The Cards for Biosafety game is preferably played by a mix of young and experienced people in the biosafety field. Think of master students, PhD students, postdocs and senior researchers or biosafety officers. In this way, people with different levels of knowledge can learn from each other.
Step 1: the scenario
The participants start with a particular biosafety scenario from the practice of biotechnology. Think of a genetically modified organism that escapes from the lab. Or think of a foreign employee who is used to certain rules and protocols that do not apply in the Netherlands, and therefore handles risky situations differently.
Step 2: the risks
The participants then draw six cards, each containing possible biosafety risks. They choose the risk they think is most likely to happen and have to justify their choice. Then they look for solutions. Six other cards show possible solutions or measures that could reduce the risk or limit the negative consequences. Here too, each player chooses a solution that best fits the previously chosen risk. The cards can contain both serious and funny solutions.
Step 3: the arguments
Regardless of whether the participant agrees with the information on the card, he or she must come up with an appropriate argument. This can lead to humorous arguments and conversations. It stimulates participants to think creatively. It also makes them consider a solution that they themselves would not have thought of. For example, think of a solution such as an alarm that scares away birds so that they do not eat genetically modified plant seeds. Complicated situations from practice are looked at from different angles and stimulate the discussion about safety and action.
Step 4: voting
Finally, the participants have to vote for each other's solutions. In this way, the players jointly decide to carry out a certain solution. Afterwards, the players evaluate the course of the game and the results with each other.
Offline, online, individually or in teams
One of the participants is active as a moderator during the game. This role is best played by a senior researcher or biosafety officer. The moderator can, for example, mention practical situations to make the game more realistic. The game can be played physically and online. And the players can decide for themselves whether they participate individually or in pairs. Thanks to a blank scenario card, the players and the moderator can focus on a specific situation in their own context.

Players are enthusiastic and conversations are starting
Experiences and practical application
During development, the game was tested by students, risk assessors from the National Institute for Public Health and the Environment (RIVM) and biosafety officers. Reactions to the game were very positive. It turned out that the participants had valuable conversations about their own biosafety experiences. After playing Cards for Biosafety, players indicated that they enjoyed the game and that they were challenged to look at risks and biosafety in a different way. In particular, making up arguments for choices in the game proved to stimulate creative thinking. In this way, the participants learned a lot about risks and measures in a playful way.
In the curriculum or in practice
The game can be used for various purposes. For example, it can become part of the curriculum of biotechnology students. Professionals in the field can use it as well. A complex situation or an incident can be a good reason to reflect on one's own experiences with that precarious situation and increase biosafety awareness. The game can also contribute to team building and promote good communication within teams.
The game has already been sent to a large number of biosafety officers and professionals at home and abroad. In addition, the game was part of the programme during the Biosecurity Kennisdag 2021.
Download Cards for Biosafety
Due to its success, we will continue to offer Cards for Biosafety for organisations or individuals working in the field of biosafety. Are you interested in the game? Send an e-mail to Kyra Delsing or download the files and print your own Cards for Biosafety:
Download Cards for Biosafety
Three games: Cards for Biosafety, MachiaCelli Switch, MachiaCelli Teams
The Rathenau Instituut and TU Delft have developed not one, but three games. Besides Cards for Biosafety, they also developed MachiaCelli Switch and MachiaCelli Teams. The central question: how to ensure safety in biotechnology, now and in the future?
Cards for Biosafety is a game for biotechnologists and students to raise awareness about biosafety and contribute to proper handling of risky situations. It can be played offline and online.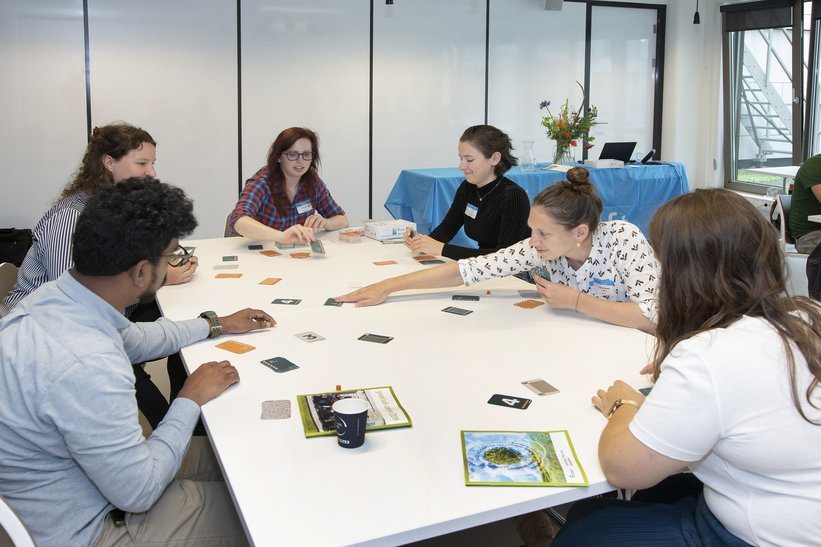 MachiaCelli Switch lets players experience the design and implementation phase of a biotechnology project from the perspective of scientists, policy-makers and risk assessors. The focus of this game is on the different roles and responsibilities in biotechnology.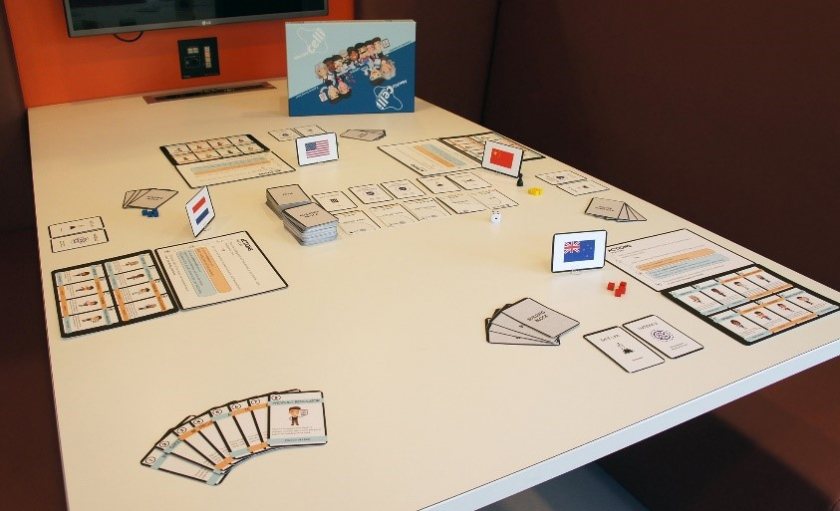 MachiaCelli Teams focuses on cooperation and communication between researchers and policymakers. By allowing different roles to work together, the game reveals communication barriers and allows players to work on possible solutions. The game builds on MachiaCelli Switch and has an extended risk and impact system. It can be played offline and online.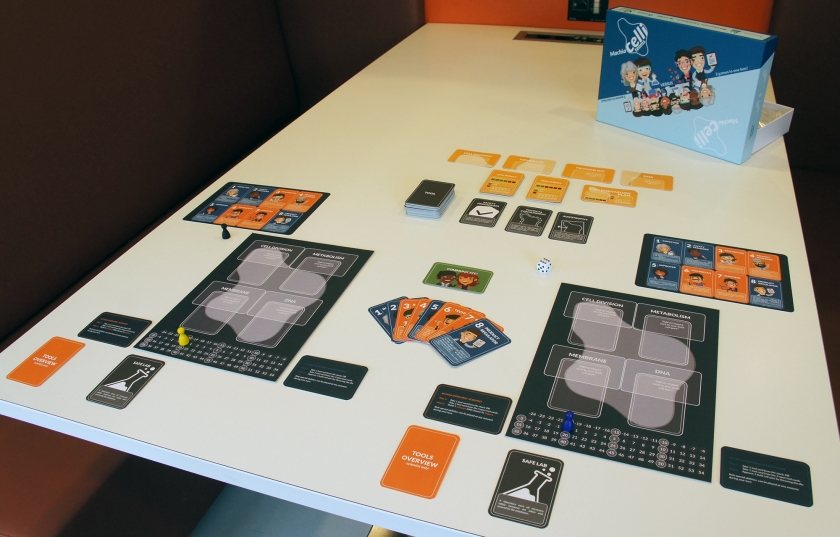 About T-TRIPP
The Cards for Biosafety game was developed as part of the project Tools for Translation of Risk research into Policies and Practices (T-TRIPP). This project is a collaboration between the Rathenau Instituut and three TU Delft departments: the department of Biotechnology and Society, the department of Multi-Actor Systems and the GameLab. Huib de Vriend of LIS Consult is involved in the project as an expert. The project is funded by NWO within the programme Towards Modernisation of Biotechnology and Safety. This programme was set up on behalf of the Ministry of Infrastructure and Water Management.
In addition to the three games, a report will be developed that contains recommendations to improve the interaction between the different people and actors involved in the implementation of safety policy in biotechnology. Also, a protocol will be developed to support the interaction between different stakeholders.
Want to know more about T-TRIPP? Read our webpage about biotechnology and safety