This factsheet investigates the appointment of full professors, associate professors and assistant professors in Dutch academia in terms of candidate availability.
In het kort
Tegenwoordig is ongeveer de helft van de promovendi vrouw, terwijl maar een kwart van de Nederlandse hoogleraren en universitair hoofddocenten (UHD's) uit vrouwen bestaat.
Deze verhouding ligt anders bij de universitair docenten (UD's), waar het percentage vrouwen 40% is (2015).
Een snellere benoeming als hoogleraar na een promotie kan een positief effect hebben op het aandeel vrouwelijke hoogleraren.
On 10 February 2017, it was precisely one hundred years ago that the Netherlands welcomed its first female professor when Johanna Westerdijk became Professor of Phytopathology by Special Appointment.
In 2018 24% of all professors in the Netherlands are women, even though female students have outnumbered male students since the start of the present century.  Women are underrepresented in academia, and the higher up the academic ladder, the more lopsided the gender ratio becomes.  If things keep on in this manner, it will be many decades before this changes (LNVH, 2016). Policy meant to encourage more women in academia focuses mainly on appointments.  This factsheet explores the appointment of professors, associate professors and assistant professors, with the number of appointments being related to candidate availability.
The basics: obtaining a PhD from a university
A PhD is the gateway to an academic career. Information on the number of PhDs awarded at Dutch universities was first collected in 1920. There were 270 PhDs awarded that year, 25 of them to women – just under 10% of the total. It took until the mid-1980s before that figure rose consistently beyond 10% (between 1920 and 1985, it was 6.6%). 
After 1985, the following trend emerged. We show both the total numbers (in blue) and the numbers excluding PhDs in the medical field (in red).
| | | |
| --- | --- | --- |
| | Dissertations; total share of women | Dissertations; share of women exluding medical field |
| 1985 | 8.60% | 10.21% |
| | 8.80% | 7.27% |
| 1987 | 12.40% | 11.88% |
| | 13.40% | 12.83% |
| 1989 | 15.60% | 14.19% |
| | 15.60% | 13.74% |
| 1991 | 17.90% | 15.84% |
| | 19.90% | 17.92% |
| 1993 | 19.80% | 17.76% |
| | 23.20% | 21.60% |
| 1995 | 23.80% | 22.02% |
| | 27.50% | 24.70% |
| 1997 | 27.50% | 23.88% |
| | 29.00% | 23.49% |
| 1999 | 30.10% | 27.13% |
| | 32.50% | 29.87% |
| 2001 | 31.60% | 27.88% |
| | 34.70% | 30.36% |
| 2003 | 36.20% | 33.89% |
| | 36.10% | 32.69% |
| 2005 | 38.10% | 33.45% |
| | 38.70% | 33.16% |
| 2007 | 41.80% | 36.40% |
| | 41.70% | 36.80% |
| 2009 | 41.60% | 36.51% |
| | 42.10% | 37.17% |
| 2011 | 43.80% | 38.51% |
| | 44.90% | 39.10% |
| 2013 | 46.20% | 39.96% |
| | 47.30% | 41.42% |
| 2015 | 49.10% | 42.20% |
| | 48.70% | 41.76% |
| 2017 | 47.90% | 41.90% |
| | 48.10% | 41.80% |
| 2019 | 47.42% | 40.96% |
| | 49.70% | 43.14% |
The trend is clear, rising from 8.8% in 1985 to near parity in 2015 and a slight decrease from 2016 onwards. There are major differences from one field of science to the next. The sharpest increases are in engineering and technology (from 2.5% to  28.7%), natural sciences (from 6% to  34.4%) and agricultural science (from 8% to  50.8%). Medical and health sciences awarded equal numbers of PhDs to men and women in 2006, and by 2020 women accounted for 62.4% of all PhDs in this field.
Analysis of new appointments by year
Our analyses show that the average age of candidates who have completed their PhD is 29.5, that assistant professors are an average of 37 years of age upon appointment, that the average age at which associate professors are granted an appointment is 42, and that professors are an average age of 49 when they take up their post (based on data taken from the WOPI University Staff Information System provided by VSNU Association of Universities in the Netherlands for the 2003-2015 period; no comparable data are available for university hospitals).
Policy meant to encourage more women in academia tends to zoom in on appointments and selection committees. That is why our analysis compares the male/female ratio of all newly appointed assistant, associate and full professors with the male/female ratio of PhD recipients 7, 12 and 19 years earlier. If careers are gender-neutral, then the ratio of male/female appointees in 2015 should parallel the ratio of male/female PhDs 19 years earlier, in 1996. But is that the case?
Universities name an average of 276 new professors every year. Of these, 52 are women (19%). If we compare appointments in the 2004-2015 period with our forecast (based on PhDs awarded 19 years earlier), we get the following.
Analyse van nieuwe benoemingen per jaar
Uit onze analyses blijkt dat de gemiddelde leeftijd van degenen die een promotie hebben afgerond op 29,5 jaar ligt. De gemiddelde leeftijd van startende universitair docenten is 37 jaar. UHD's zijn gemiddeld 42 jaar bij aanvang van hun functie en hoogleraren zijn gemiddeld 49 jaar wanneer zij hun ambt betreden (op basis van de Wetenschappelijk Onderwijs Personeel Informatie (WOPI-data) van de Vereniging van Universiteiten (VSNU) over de periode 2003-2015. Vergelijkbare data van de umc's zijn niet beschikbaar).
Het huidige beleid omtrent meer vrouwen in de wetenschap is vooral gericht op benoemingen en selectiecommissies en richt zich niet op de man/vrouw verhouding van de mogelijke kandidaten. Daarom presenteren wij analyses waarin de man/vrouw verhouding van alle nieuw aangestelde UD's, UHD's, en hoogleraren is afgezet tegen de man/vrouw verhoudingen in promoties voor respectievelijk zeven, twaalf en negentien jaar voorafgaand aan de benoeming van UD, UHD en hoogleraar. Als de carrières gender-neutraal verlopen, zal de man/vrouw verhouding in de benoemingen van hoogleraren in bijvoorbeeld 2015 overeenkomen met de man/vrouw verhoudingen in de promoties van negentien19 jaar eerder, 1996. De vraag is of deze verhoudingen overeenkomen.
Jaarlijks worden er aan de Nederlandse universiteiten gemiddeld 276 nieuwe hoogleraren aangesteld. Als we de genderverdeling in de aanstellingen voor de periode 2004-2015 naast de verwachtingen leggen op basis van promoties negentien19 jaar eerder, zien we het volgende beeld (zie grafiek).
 
| | | |
| --- | --- | --- |
| | appointments professor % women | appointments professor % women expected |
| 2004 | 16.00% | 10.20% |
| 2005 | 10.00% | 7.30% |
| 2006 | 14.50% | 11.90% |
| 2007 | 18.60% | 12.80% |
| 2008 | 15.30% | 14.20% |
| 2009 | 14.80% | 13.70% |
| 2010 | 20.20% | 15.80% |
| 2011 | 26.50% | 17.90% |
| 2012 | 20.60% | 17.80% |
| 2013 | 22.90% | 21.60% |
| 2014 | 24.40% | 22.00% |
| 2015 | 27.40% | 24.70% |
Notes: This factsheet was drafted in 2017 using microdata from the WOPI University Staff Information System for the period 2003-2015. No new microdata for 2016-2018 have been delivered to the Rathenau Institute. Therefore, the analyses cannot be repeated and current developments cannot be monitored.
This graph shows that the percentage of women appointed as professor is rising and somewhat higher than forecast. On average, nine more female professors are appointed each year than PhDs awarded in the past would lead us to expect. In the final year (2015), we see that women account for 27% of the appointments.
There are similar patterns for assistant and associate professors. The number of associate professors appointed each year is 292 on average, of which 87 are women (28%). Each year, seven more female associate professors are appointed than forecast based on PhDs awarded 12 years earlier.
An average of 285 women are appointed as assistant professors out of a total of 706 appointments each year (40%). That is 67 more female assistant professors each year than forecast. Male and female appointments to assistant professor have in fact reached parity (2015).
None of these figures include medicine, where the upward trend in number of female PhDs is much stronger, began much earlier, and achieved parity with male PhDs in 2006.
There are also differences from one field of science to the next.  In the social sciences (including law and economics) and the natural sciences, we see that the forecast and actual, observed numbers are virtually the same. In the humanities, the scales are tipped in favour of women. Based on PhDs awarded within a twelve-year timeframe 19 years beforehand, the forecast is that 24.1% of all appointments to professorships would be women, whereas the actual figure is 26.7%. The biggest discrepancy is in engineering and technology: 6.1% of PhDs awarded to women versus 11.5% of professorial appointments going to women 19 years later. Information about trends in the number of female professors per field of science can be found in our factsheet on Professors.
Academic careers by position and gender
In the figure below, the composition of the academic workforce (excluding the medical fields) is presented. Professors, associate professors, assistant professors and PhD-students are all presented separately. The last categor contains all the additional academic personnel, this are mainly postdocs, but also people with a teaching job and who don't have a doctorate are included in this category.
Women are presented on the right and men on the left. All numbers are in full time equivalents (fte).
Academisch functiegebouw in ontwikkeling
In de onderstaande grafiek wordt de samenstelling van het personeelsbestand van de universiteiten (exclusief wetenschapsgebied Gezondheid/umc's) gepresenteerd. Hierbij worden aantallen hoogleraren (HGL), universitair hoofddocenten (UHD) en universitair docenten (UD) als aparte groepen gepresenteerd. Daarnaast is er een categorie overig wetenschappelijk personeel (OVWP) en hebben we de promovendi (PROM). Overig WP was bij de ontwikkeling van het functiegebouw een restcategorie met vooral tijdelijk aangestelde onderzoekers en docenten en dat is nog steeds zo. Hiervoor wordt de internationale term postdoc wordt hiervoor veel gebruikt, maar helemaal dekkend is deze term niet omdat er ook personen in zitten zonder doctorstitel.
Note: rechts worden de aantallen vrouwen per functie gepresenteerd en links de mannen. Alle aantallen zijn in voltijdsequivalenten (fte).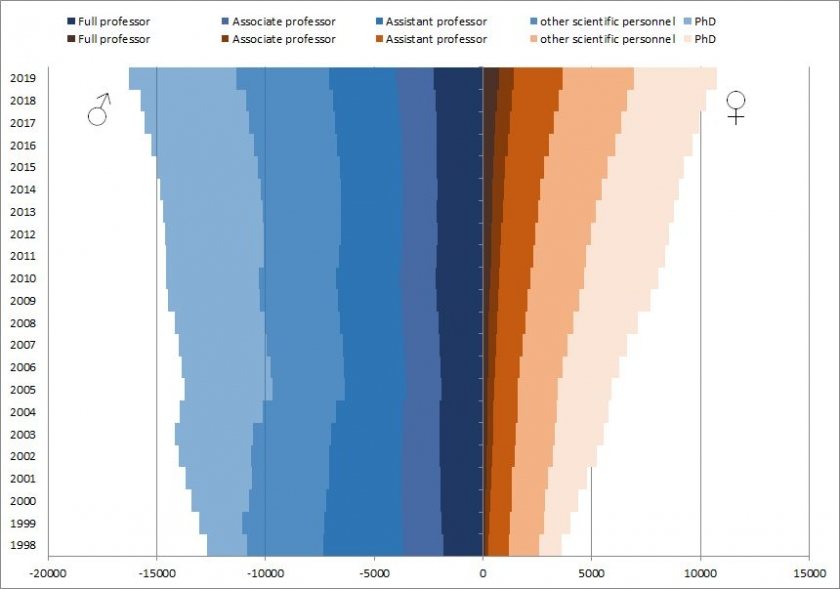 For men we see an about equal number of professors and associated professors and the number of assistant professors is similar to the sum of the two higher ranks. This has been stable over the last 20 years. We also see a clear increase in the number of male PhD-students.
For women the trend is different. The total size of the female academic workforce was a lot smaller 20 years ago and consisted mainly of PhD-students, OVWP and assistant professors. Since then there has been a large increase in the number of female academics. The number of female professors and associate professors has increased significantly, but still lag behind compared to men.
How will this develop? 1 out of 7 male academics is professor. This has been the case over the entire 20-year period. For women this is different. In 1998, 1 out of 34 female academics was professor. In 2019, 1 out of 15 female academics was professor. This is still far apart from 1 out of 7 in male academics.
To give space for female academics the following factors could be of influence:
The size and growth of the total academic workforce is an important factor. When there is more growth there are more opportunities to attract more female academics.
The development of the gender distribution in PhD-students. In 2015 there was almost a 50-50 division, but recently we see a small decrease in the share of female PhD-students. We don't know whether this is a temporary dip or the beginning of a negative trend. This could influence future gender distributions of the academic workforce.
The time-period between obtaining a doctorate and becoming a professor could become longer of shorter. When this period would become shorter, a larger share of female doctorate holders can become professor.
About the data
Data on PhDs were obtained from Statistics Netherlands (CBS), which in turn obtained them from the individual universities where the PhDs were awarded. They are complete for all the disciplines. Data on number of new appointments were sourced from microdata in the universities' WOPI University Staff Information System, which VSNU Association of Universities in the Netherlands made available to the Rathenau Institute. These microdata date back to 2003. For this factsheet, we analysed the figures on an individual basis. We calculated the number of appointments made in a given year by comparing staff figures in two consecutive years. That was possible because the WOPI System contains unique personal IDs. However, that ID is used only within the relevant university. If an academic transfers from one university to another, the WOPI System registers this in the same way as someone who originated in another segment of the Dutch or foreign job market and has accepted an academic post with the university: he or she is assigned a new ID. The figures do not permit us to analyse the entire period for post-doctoral fellows, as this is not an identifiable staff category. No such data are available for academics working in the field of health (university hospitals). The few figures available on university hospitals concern the number of professors broken down by gender and institution for the years 2009, 2012 and 2015 (source: Stichting de Beauvoir/LNVH). Flow figures such as those based on the WOPI data are virtually non-existent for university hospitals. Data from Narcis (Gateway to Scholarly Information in the Netherlands) and DANS (Data Archiving and Networked Services) have been analysed. These data make it possible to analyse professors of medicine as a separate category. Unfortunately, these sources only have data covering four years. Since the medical sciences were the first to achieve gender parity in number of PhDs awarded and since this field employs approximately a third of all academics in the Netherlands, patterns in this field (unknown to us) may have an impact on the overall figures. We are unable to perform a reliable analysis of new appointments in medicine compared with PhDs awarded 19 years earlier because the data do not include appointment figures for professors. The comparison also proved difficult in agriculture because the WOPI System classifies veterinary science under the field of health, whereas Statistics Netherlands classifies it under agriculture. This means that WOPI places veterinary science in a different data category than Statistics Netherlands.
[Over de data] (uitklapbaar)
De weergegeven cijfers over het aantal nieuwe aanstellingen zijn gebaseerd op de microdata van de WOPI-data. Deze microdata zijn er voor over de periode 2003-2015. Voor deze factsheet zijn de cijfers geanalyseerd op individueel niveau. Gekeken is naar de benoemingen die hebben plaatsgevonden door de bestandscijfers steeds van twee jaar te vergelijken. Dat kan omdat de WOPI-data unieke persoons ID's bevat. Dit is echter een ID dat alleen bij de desbetreffende universiteit gebruikt wordt. Als een wetenschapper van de ene naar de andere universiteit gaat, wordt die beweging in de WOPI-data net zo geregistreerd als iemand die uit andere segmenten van de arbeidsmarkt in binnen- of buitenland komt; de wetenschapper krijgt dan een nieuw ID.
De cijfers over de promoties per jaar komen van het CBS, die ze op haar beurt weer verkrijgt van de individuele universiteiten waar de promoties plaats vinden. Deze cijfers zijn volledig over alle disciplines.
De cijfers laten geen analyse toe voor de gehele periode voor zogenaamde 'postdocs'; dit is geen herkenbare personeelscategorie in de WOPI-data.
Een belangrijk aandachtspunt is dat de voor deze analyse benodigde microdata vanuit de universiteiten de laatste jaren niet meer aan ons beschikbaar zijn gesteld. Drie jaar (2016, 2017 en 2018) op rij hebben enkele instellingen geen microdata meer geleverd aan de VSNU. De microdata die wel bij de VSNU beschikbaar zijn, zijn niet langer beschikbaar gesteld aan het Rathenau Instituut. Daardoor kunnen wij geen berekeningen meer maken over de nieuwe aanstellingen in relatie tot de promoties in eerdere jaren. Het ontbreekt daardoor aan de mogelijkheid om de ontwikkeling van vrouwen in de wetenschap goed te monitoren en de effectiviteit van het beleid te toetsen.
Voor de wetenschappers in het wetenschapsgebied gezondheid (umc's) zijn de hiervoor benodigde microdata niet beschikbaar. De weinige relevante personeelsdata die beschikbaar zijn van de umc's, zijn de cijfers over de aantallen hoogleraren naar gender en instelling (Stichting de Beauvoir/ LNVH). Stroomcijfers die zoals op basis van de WOPI-data konden worden berekend, zijn er voor de umc's daarom niet. De data van Narcis van de Data Archiving and Networked Services (DANS) zijn geanalyseerd. Daarin zijn de hoogleraren voor geneeskunde wel in beeld te brengen. Er zijn echter maar zes opeenvolgende jaren uit deze bron beschikbaar. Voor geneeskunde kunnen we dus geen betrouwbare analyse maken voor nieuwe benoemingen in relatie tot de promoties negentien jaar eerder, omdat de aanstellingsgegevens ontbreken in de data. Omdat de genderverdeling binnen de medische wetenschappen afwijkt van die van de overige wetenschappelijke sectoren en omdat ongeveer één derde van het geld voor wetenschap in Nederland wordt besteed aan de medische sector, kan het patroon dat wij in deze factsheet presenteren afwijken van het patroon dat zichtbaar zou zijn wanneer het Rathenau over data zou beschikken van alle wetenschappelijke sectoren. Binnen de medische sector was het aandeel vrouwelijke promovendi immers eerder gelijk aan het aandeel mannen dan bij de overige sectoren.
Voor wetenschapsgebied Landbouw zijn de vergelijkingen ook lastig te maken, omdat de absolute aantallen klein zijn en omdat er verschillende indelingen van diergeneeskunde worden gehanteerd. Diergeneeskunde wordt in de WOPI-data gerekend tot het wetenschapsgebied Gezondheid, terwijl het CBS dit toerekent aan Landbouw. Diergeneeskunde heeft dus in de WOPI-data, waaruit de aanstellingen tot hoogleraar worden berekend, een andere plaats dan in de data van het CBS, waaruit de promoties worden berekend.
Definities en afkortingen